Good winter morning, everyone!
Here we are, knee-deep in a Canadian winter. Again. For me, every year, the months leading up to February are kind of like being on a roller coaster, click-clacking ever-so-slowly along the upward sloping section of track, in anticipation of the peak, and then the pause….. (can you hear the shark music?), the last second of looking upwards before you and your train car are catapulted downwards in a free-flying sort of letting it all go and just hope you make a friendly reunion with gravity soon, with all your body parts intact 🙂
And now that we're in this freefalling part of winter- this whatever comes, I hope I get through it with all my body parts intact – we might benefit from a stance of radical acceptance. Acknowledging that my world's getting a little whiter, darker, colder, and smaller. Facing the fact that things get a little more difficult in winter like layering to stay warm, walking outdoors in the snow and ice, and not being able to see for the fog on your glasses. Accepting that spring is coming, but it'll be a while. There may be some challenges in the middle bit.
Especially because this winter, we also face the uncertainties of an ever-changing world still bound by a pandemic. We don't know what next month will look like, or the next or the next. We can hope and predict, but we just don't know. Not anymore.
Radical acceptance calls for us to accept that "it is what it is" even when it's not fair nor desirable. So, why don't we just go ALL IN then?
I want to invite you, this week, to get up close and curious with the winter. Face that apprehension or disappointment or reluctance head on, and explore the sensations of the winter as they are, not as you'd like them to be. Be present in what winter has to offer, and pay attention to the characteristics of the season without judgment.
Then, see if this practice also fits when you have apprehension or bitterness about the COVID-19 pandemic and its restrictions. See if you can explore your feelings as they are, without judgment and lean in to them a little bit. Know that it is what it is, and this season, too, shall pass. Spring will return. It always does.
I've included a homemade (pardon the artwork 😅) Winter Scavenger Hunt with invitations to See, Feel, Hear, and Smell what winter season has to offer. Take the time to explore and you might just find a different side to winter, maybe even a side you can celebrate.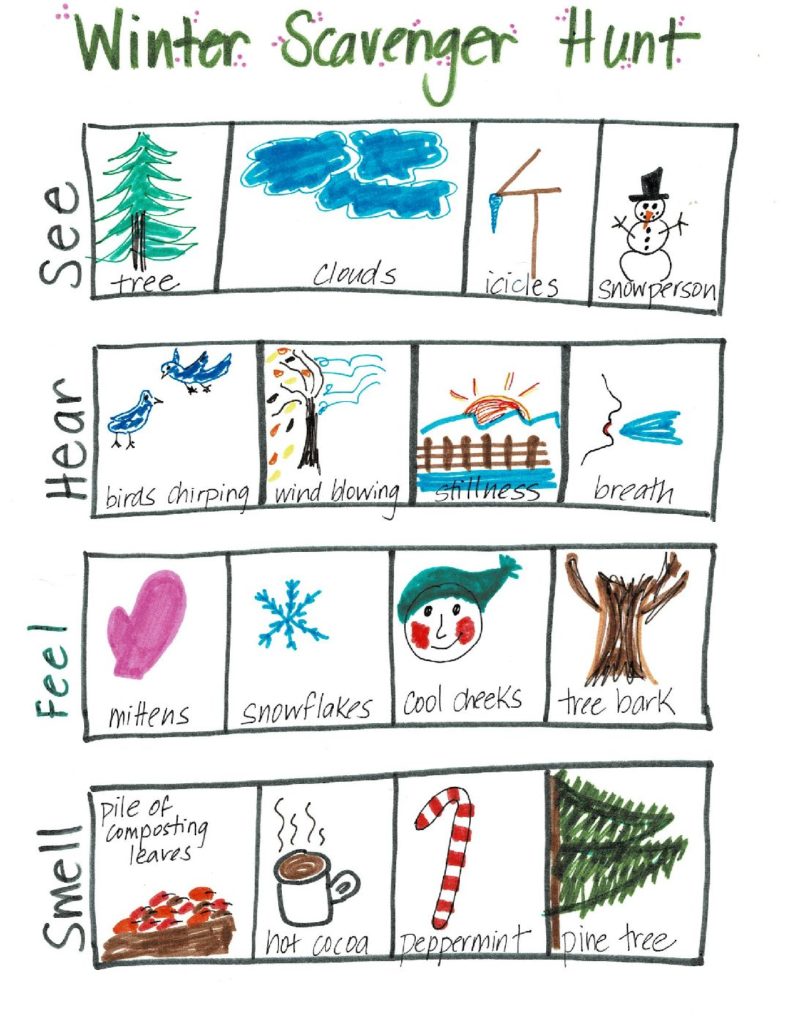 stay well, and warm,
Melanie