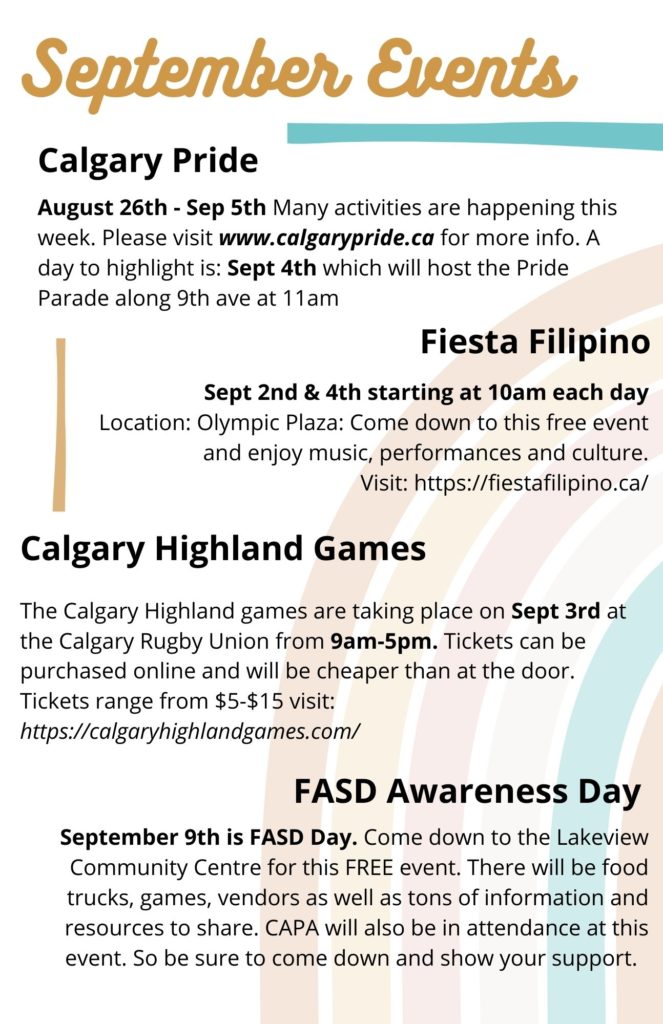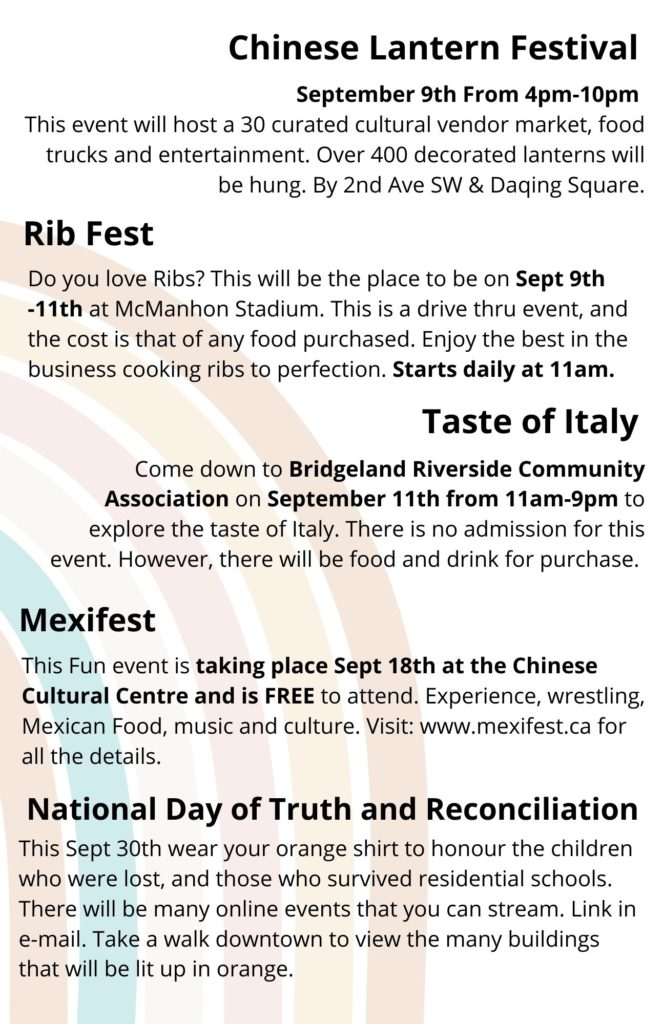 Calgary Pride Festival
August 26th – Sep 5th Many activities are happening this week. Please visit www.calgarypride.ca for more info. A day to highlight is: Sept 4th which will host the Pride Parade along 9th ave at 11am
Fiesta Filipino
Sept 2nd & 4th starting at 10am each day Location: Olympic Plaza: Come down to this free event and enjoy music, performances and culture. Visit: https://fiestafilipino.ca/
Calgary Highland Games
The Calgary Highland games are taking place on Sept 3rd at the Calgary Rugby Union from 9am-5pm. Tickets can be purchased online and will be cheaper than at the door. Tickets range from $5-$15 visit: https://calgaryhighlandgames.com/
FASD Awareness Day
September 9th is FASD Day. Come down to the Lakeview Community Centre for this FREE event. There will be food trucks, games, vendors as well as tons of information and resources to share. CAPA will also be in attendance at this event. So be sure to come down and show your support.
Chinese Lantern Festival
September 9th from 4pm-10pm. This event will host a 30 curated cultural vendor market, food trucks and entertainment. Over 400 decorated lanterns will be hung.By 2nd Ave SW & Daqing Square, West of Chinese Cultural Centre. Visit: https://www.todocanada.ca/city/calgary/event/chinatown-lantern-festival-2022/
Rib Fest
Do you love Ribs? This will be the place to be on Sept 9th -11th at McManhon Stadium. This is a drive thru event, and the cost is that of any food purchased. Here you will find the best in the business cooking ribs to perfection. This event is put on by the Rotary Club. Starts daily at 11am. Visit: https://yycrotaryribfest.ca/
Taste of Italy
Come down to Bridgeland Riverside Community Association on September 11th from 11am-9pm to explore the taste of Italy. There is no admission for this event. However, there will be food and drink for purchase. Visit: https://tasteofitalycalgary.com/
Mexifest
This Fun event is taking place Sept 18th at the Chinese Cultural Centre and is FREE to attend. Here you will find Wrestling, Mexican Food, Music and all things Mexican. Visit: www.mexifest.ca for all the details.
National Day of Truth and Reconciliation
This Sept 30th wear your orange shirt to honour the children who were lost, and those who survived residential schools. There will be many online events that you can stream. Link in e-mail. Take a walk downtown to view the many buildings that will be lit up in orange.