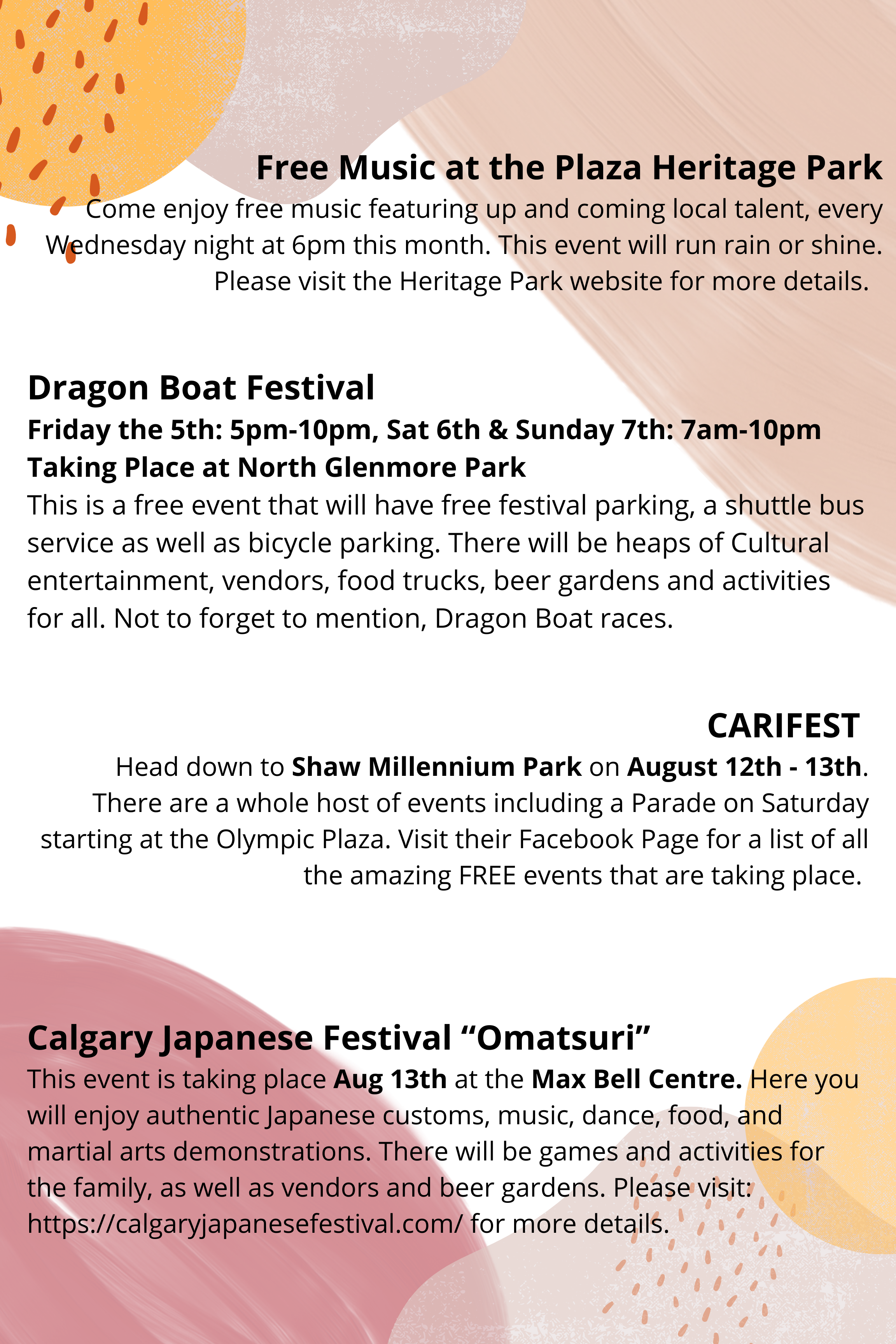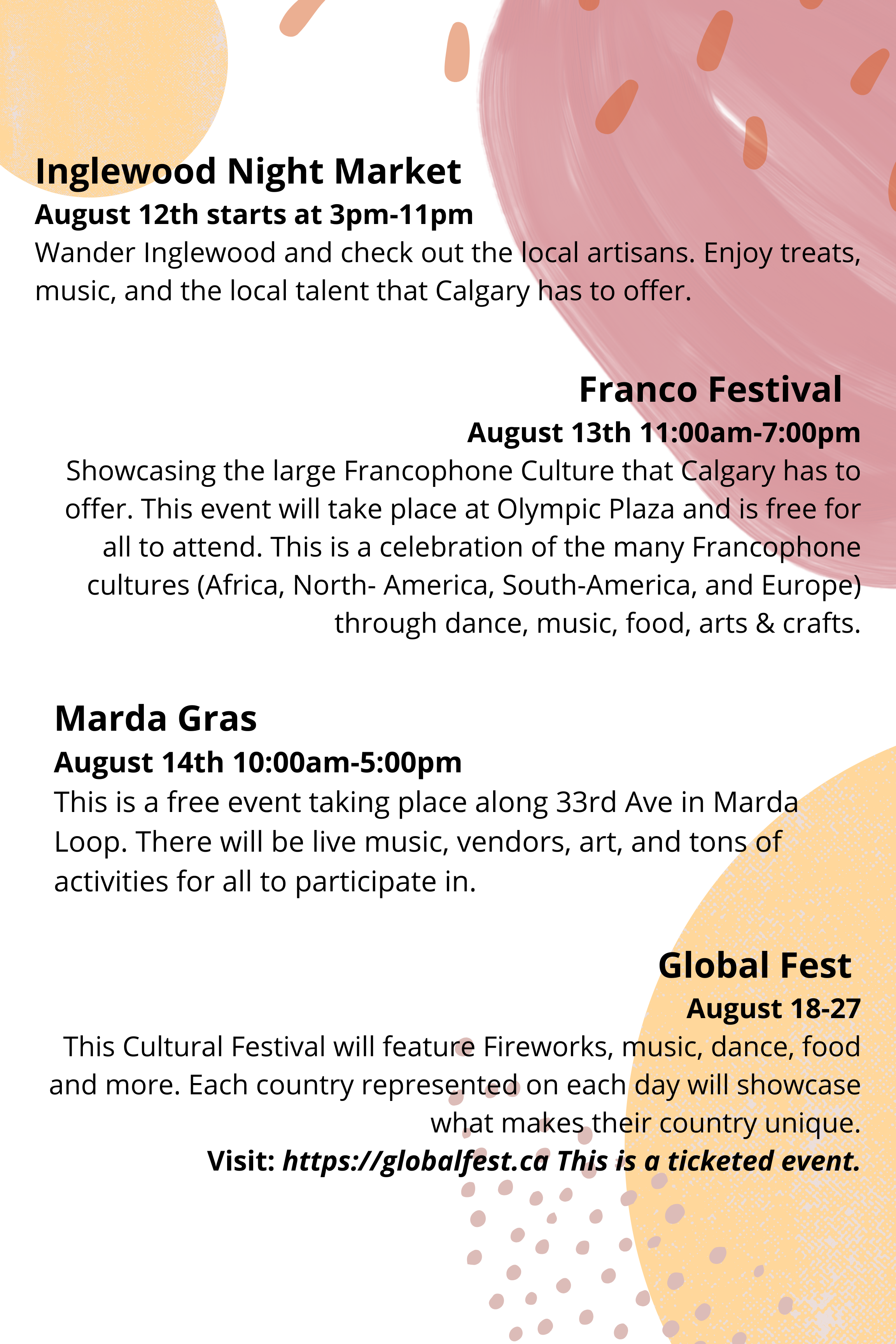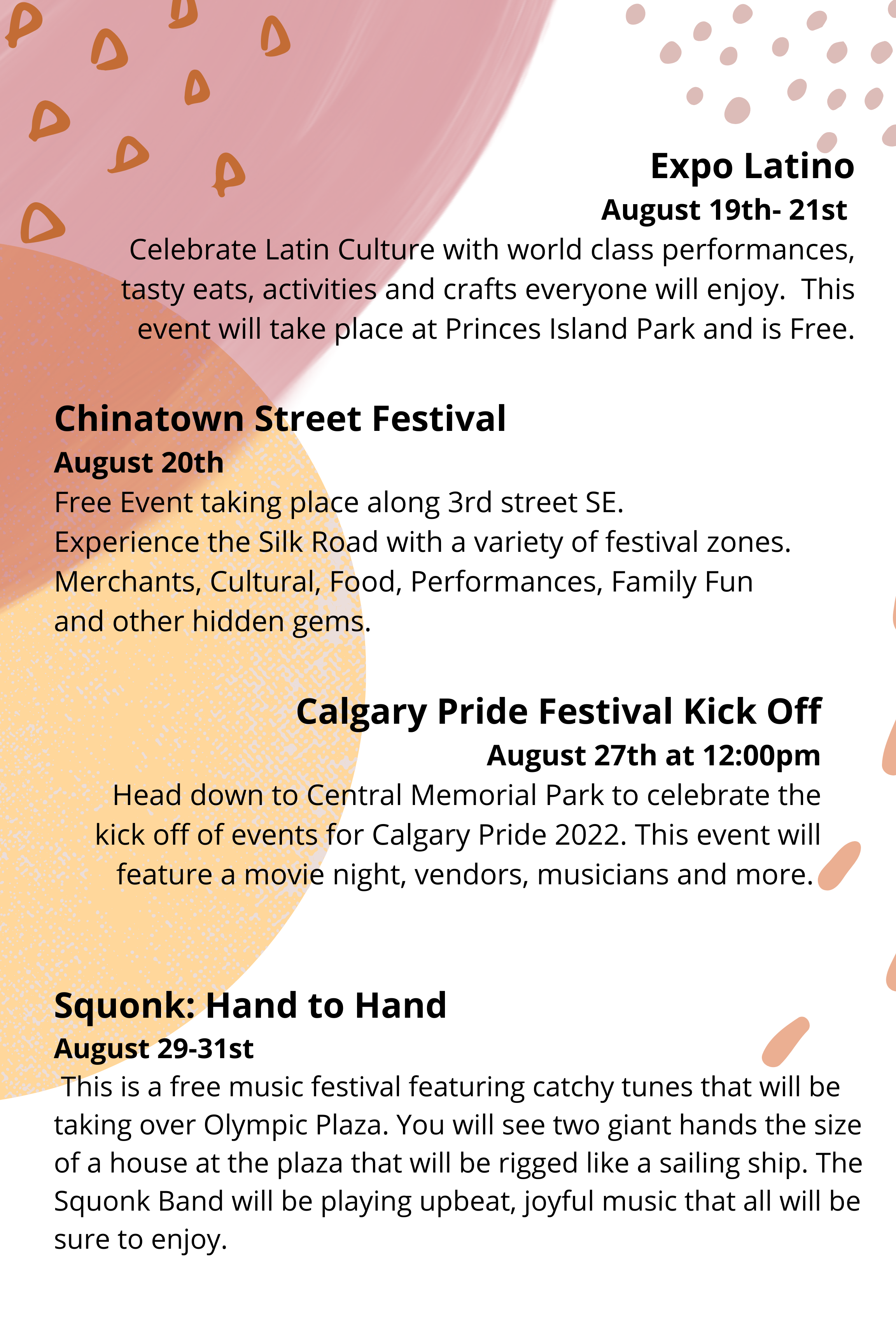 Free Music at the Plaza Heritage Park
Come enjoy free music featuring up and coming local talent every Wednesday night at 6pm this month. This event will run rain or shine.
Please visit the Heritage Park website for more details.
Dragon Boat Festival
Friday 5th: 5pm-10pm, Sat 6th & Sunday 7th: 7am-10pm
Taking Place at North Glenmore Park
This is a free event that will have free festival parking, a shuttle bus service as well as bicycle parking. There will be heaps of Cultural entertainment, vendors, food trucks, beer gardens and activities for all. Not to forget to mention Dragon Boat races.
CARIFEST
Head down to Shaw Millennium Park on August 12th – 13th.
There are a whole host of events including a Parade on Saturday starting at the Olympic Plaza. Visit their Facebook Page for a list of all the amazing FREE events that are taking place.
Calgary Japanese Festival "Omatsuri"
This event is taking place Aug 13th at the Max Bell Centre. Here you will enjoy authentic Japanese customs, music, dance, food, and martial arts demonstrations. There will be games and activities for the family, as well as vendors and beer gardens. Please visit: https://calgaryjapanesefestival.com/ for more details.
Inglewood Night Market
August 12th starts at 3pm-11pm
Wander Inglewood and check out the local artisans. Enjoy treats, music, and the local talent that Calgary has to offer.
Franco Festival
August 13th 11:00am-7:00pm
Showcasing the large Francophone Culture that Calgary has to offer. This event will take place at Olympic Plaza and is free for all to attend. This is a celebration of the many Francophone cultures (Africa, North- America, South-America, and Europe) through dance, music, food, arts & crafts.
Marda Gras
August 14th 10:00am-5:00pm
This is a free event taking place along 33rd Ave in Marda Loop. There will be live music, vendors, art, and tons of activities for all to participate in.
Global Fest
August 18-27
This Cultural Festival will feature Fireworks, music, dance, food and more. Each country represented on each day will showcase what makes their country unique.
Visit: https://globalfest.ca this is a ticketed event
Expo Latino
August 19th- 21st
Celebrate Latin Culture with world class performances, tasty eats, activities and crafts everyone will enjoy. This event will take place at Princes Island Park and is Free.
Chinatown Street Festival
August 20th
Free Event taking place along 3rd street SE.
Experience the Silk Road with a variety of festival zones. Merchants, Cultural, Food, Performances, Family Fun and other hidden gems.
Calgary Pride Festival Kick Off
August 27th at 12:00pm
Head down to Central Memorial Park to celebrate the kick off of events for Calgary Pride 2022. This event will feature a movie night, vendors, musicians and more.
Squonk: Hand to Hand
August 29-31st
This is a free music festival featuring catchy tunes that will be taking over Olympic Plaza. You will see two giant hands the size of a house at the plaza that will be rigged like a sailing ship. The Squonk Band will be playing upbeat, joyful music that all will be sure to enjoy.