Links and Text version below Images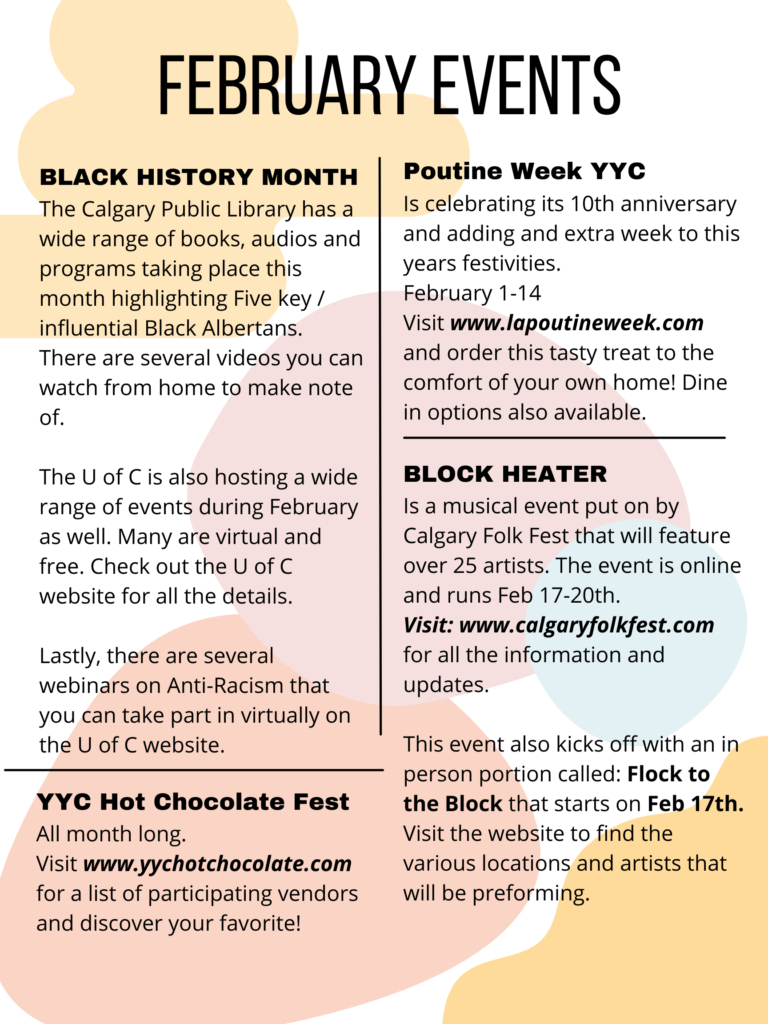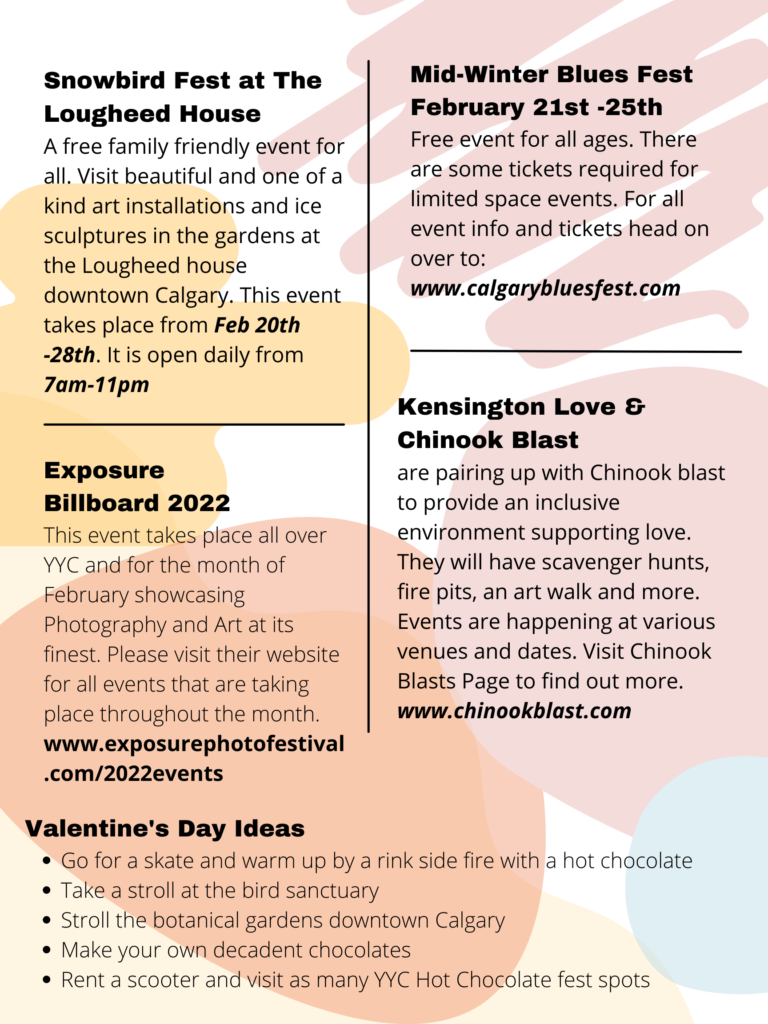 BLACK HISTORY MONTH
The Calgary Public Library has a wide range of books, audios and programs taking place this month highlighting five key and influential Black Albertans. There are several videos you can watch from home to make note of during February. The U of C is also hosting a wide range of events as well. Many are virtual and free. Check out the U of C website for all the details. Lastly, there are several webinars on Anti-Racism that you can take part in virtually on their website.
YYC Hot Chocolate Fest
All month long.
Visit www.yychotchocolate.com for a list of participating vendors and discover your favorite!
Poutine Week YYC
Is celebrating its 10th anniversary and adding and extra week to this years festivities.
February 1-14
Visit www.lapoutineweek.com and order this tasty treat to the comfort of your own home! Dine in options also available.
BLOCK HEATER
Is a musical event put on by Calgary Folk Fest that will feature over 25 artists. The event is online and runs Feb 17-20th.
Visit: www.calgaryfolkfest.com
For all the information and updates.
This event also kicks off with an in person portion called: Flock to the Block that starts On Feb 17th. Visit the website to find the various locations and artists that will be preforming.
Snowbird Fest at The Lougheed House
A free family friendly event for all. Visit beautiful and one of a kind art installations and ice sculptures in the gardens at the Lougheed house downtown Calgary. This event takes place from Feb 20th -28th. It is open daily from 7am-11pm
Exposure Billboard 2022
This event takes place all over YYC and for the month of February showcasing Photography and Art at its finest. Please visit their website for all events that are taking place throughout the month.
www.exposurephotofestival.com/2022events
Mid-Winter Blues Fest
February 21st -25th
Free event for all ages. There are some tickets required for limited space events. For all event info and tickets head on over to:Midwinter Blues – Calgary International Blues Festival (calgarybluesfest.com)
Kensington Love & Chinook Blast
Are pairing up with Chinook blast to provide an inclusive environment supporting love. They will have scavenger hunts, fire pits, an art walk and more.
Events are happening at various venues and dates. Visit Chinook Blasts Page to find out more. www.chinookblast.com
Valentine's Day Ideas
Go for a skate and warm up by a rink side fire with a hot chocolate
Take a stroll at the bird sanctuary
Stroll the botanical gardens downtown Calgary
Make your own decadent chocolates
Rent a scooter and visit as many YYC Hot Chocolate fest spots.