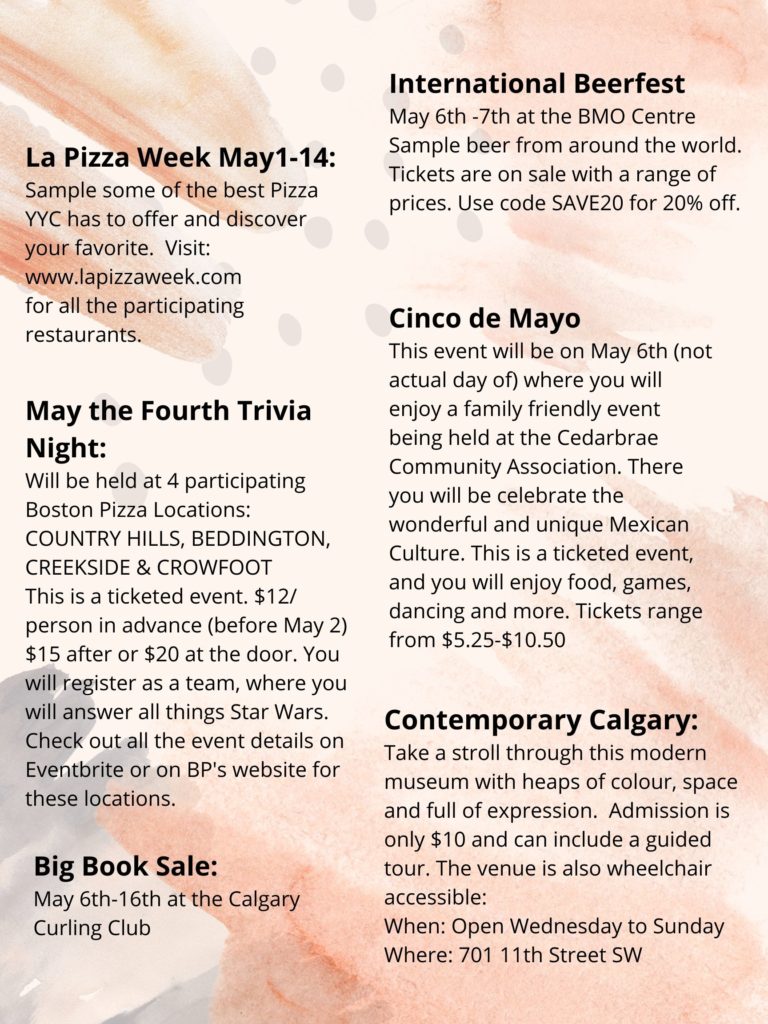 Cinco de Mayo
This event will be on May 6th (not actual day of) where you will enjoy a family friendly event being held at the Cedarbrae Community Association. There you will be celebrate the wonderful and unique Mexican Culture.
This is a ticketed event, and you will enjoy food, games, dancing and more.
Tickets range from $5.25-$10.50
La Pizza Week May1-14:
Sample some of the best Pizza YYC has to offer and discover your favorite.
Visit: www.lapizzaweek.com for all the participating restaurants.
Calgary Reads Big Book Sale:
May 6th-16th at the Calgary Curling Club at: 720 3rd Street NW.
International Beerfest
May 6th -7th at the BMO CentreSample beer from around the world.Tickets are on sale with a range of prices. Use code SAVE20 for 20% off.
Click Here for Details:

May the Fourth Trivia Night:
Will be held at 4 participating Boston Pizza Locations:
COUNTRY HILLS, BEDDINGTON, CREEKSIDE & CROWFOOT
This is a ticketed event. $12/ person in advance (before May 2) $15 after but prior to event, or $20 at the door. You will register as a team, where you will answer all things Star Wars. Check out all the event details on Eventbrite or on BP's website for these locations.
Click HERE for details:
Contemporary Calgary:
Take a stroll through this modern museum with heaps of colour, space and that is full of expression. Admission is only $10 and can include a guided tour. The venue is also wheelchair accessible.
When: Open Wednesday to Sunday 12:00-7:00pm
Where: 701 11th Street SW