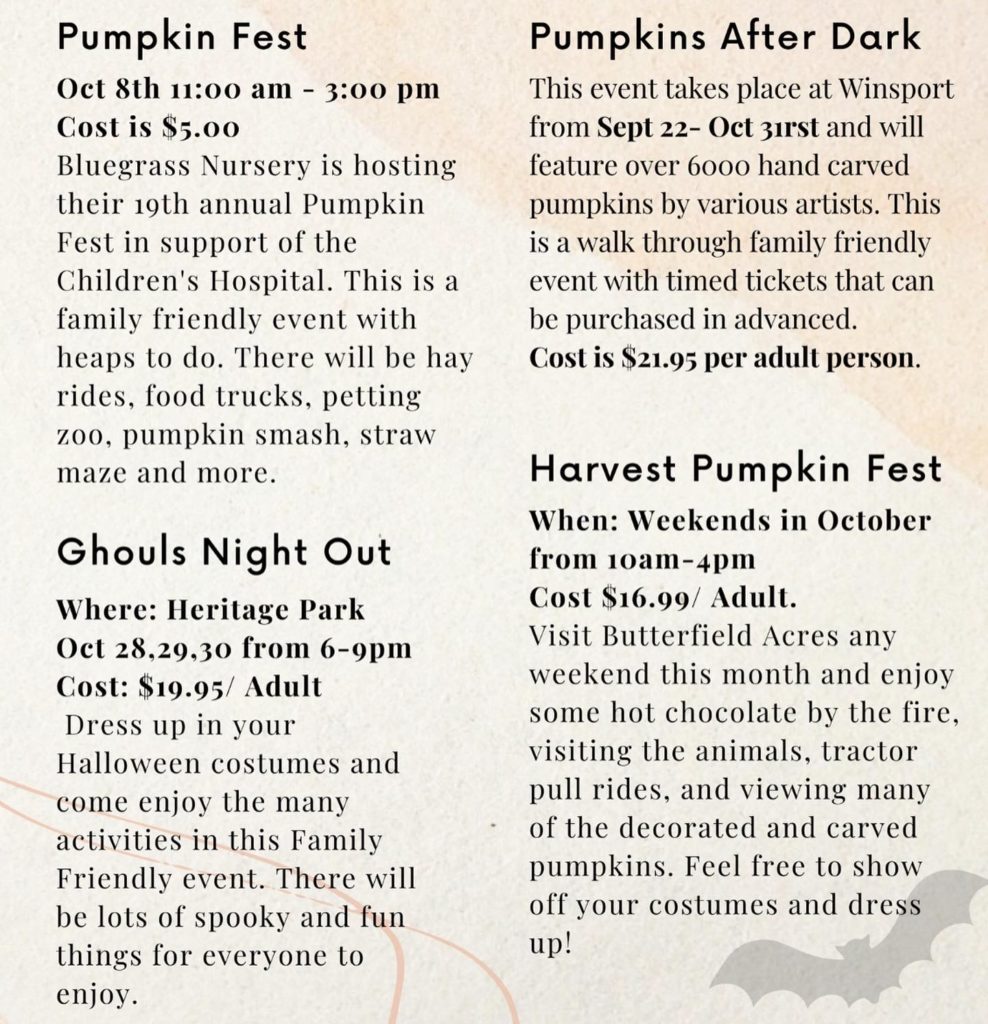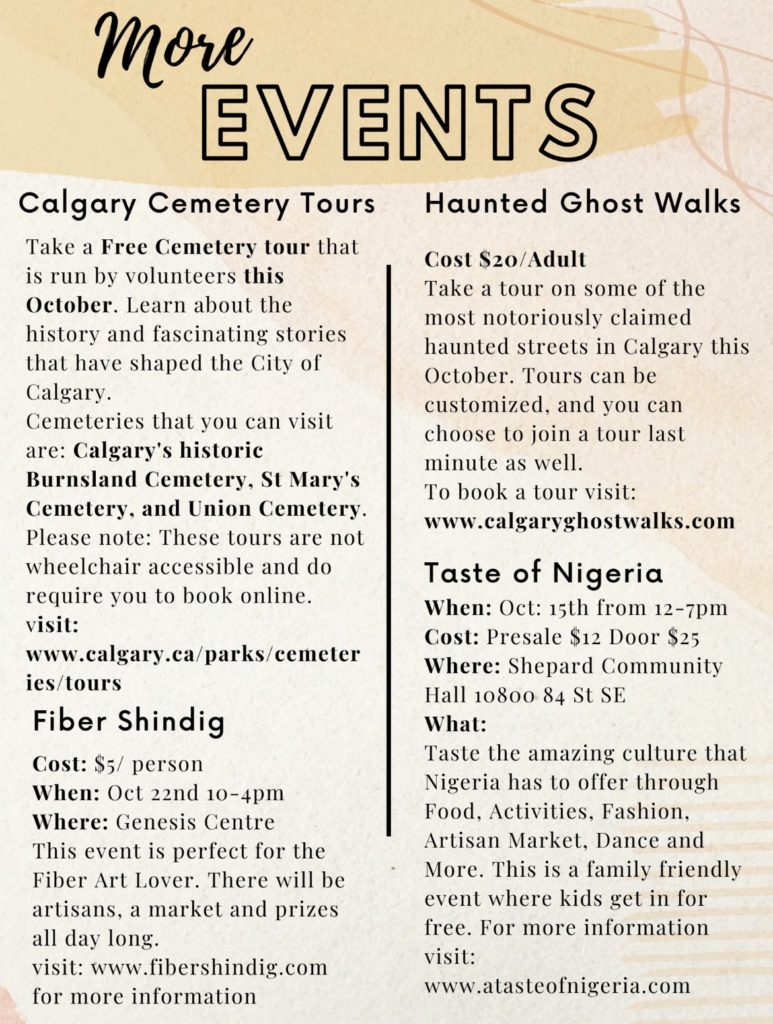 Pumpkin Fest
Oct 8th 11:00 am – 3:00 pm Cost is $5.00
Bluegrass Nursery is hosting their 19th annual Pumpkin Fest in support of the Children's Hospital. This is a family friendly event with heaps to do. There will be hay rides, food trucks, petting zoo, pumpkin smash, straw maze and more.
Pumpkins After Dark
This event takes place at Winsport from Sept 22- Oct 31rst and will feature over 6000 hand carved pumpkins by various artists. This is a walk through family friendly event with timed tickets that can be purchased in advanced.
Cost is $21.95 per adult person.
Ghouls Night Out
Where: Heritage Park
Oct 28,29,30 from 6-9pm
Cost: $19.95/ Adult
Dress up in your Halloween costumes and come enjoy the many activities in this Family Friendly event. There will be lots of spooky and fun things for everyone to enjoy.
Harvest Pumpkin Fest
When: Weekends in October from 10am-4pm
Cost $16.99/ Adult.
Visit Butterfield Acres any weekend this month and enjoy some hot chocolate by the fire, visiting the animals, tractor pull rides, and viewing many of the decorated and carved pumpkins. Feel free to show off your costumes and dress up!
Calgary Cemetery Tours
Take a Free Cemetery tour that is run by volunteers this October. Learn about the history and fascinating stories that have shaped the City of Calgary.
Cemeteries that you can visit are:Calgary's historic Burnsland Cemetery, St Mary's Cemetery, and Union Cemetery.
Please note: These tours are not wheelchair accessible and do require you to book online.
visit: www.calgary.ca/parks/cemeteries/tours
Haunted Ghost Walks
Cost $20/Adult
Take a tour on some of the most notoriously claimed haunted streets in Calgary this October. Tours can be customized, and you can choose to join a tour last minute as well. To book a tour visit: www.calgaryghostwalks.com
Fiber Shindig
Cost: $5/ person
When: Oct 22nd 10-4pm
Where: Genesis Centre
This event is perfect for the Fiber Art Lover. There will be artisans, a market and prizes all day long.
visit: www.fibershindig.com for more information
Taste of Nigeria
When: Oct: 15th from 12-7pm
Cost: Presale $12 Door $25
Where: Shepard Community Hall 10800 84 St SE
What: Taste the amazing culture that Nigeria has to offer through Food, Activities, Fashion, Artisan Market, Dance and More. This is a family friendly event where kids get in for free. For more information visit: