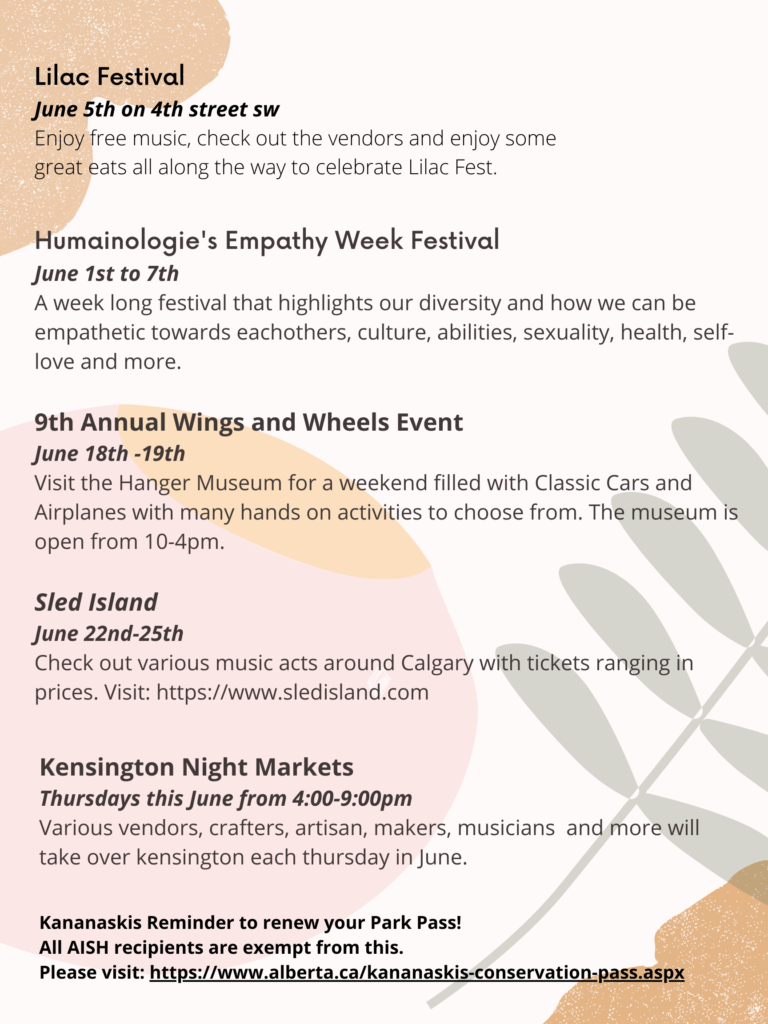 Lilac Festival
June 5th on 4th street sw
Enjoy free music, check out the vendors and enjoy some great eats all along the way.
Here are all the details: https://lilacfestival.net/

Humainologie's Empathy Week Festival
June 1st to 7th
A week-long festival that highlights our diversity and how we can be empathetic towards each other's, culture, abilities, sexuality, health, self-love and more.
Visit the website for all the details: http://www.humainologie.com/empathyweek/

9th Annual Wings and Wheels Event
June 18th -19th
Visit the Hanger Museum for a weekend filled with Classic Cars and Airplanes with many hands on activities to choose from. The museum is open from 10-4pm.
Sled Island
June 22nd-25th
Check out various music acts around Calgary with tickets ranging in prices.
Visit: https://www.sledisland.com
Kensington Night Markets
Thursdays this June from 4:00-9:00pm
Various vendors, crafters, artisan, makers, musicians and more will take over Kensington each Thursday in June.
Kananaskis Reminder to renew your Park Pass!
All AISH recipients are exempt from this.
Please visit: https://www.alberta.ca/kananaskis-conservation-pass.aspx